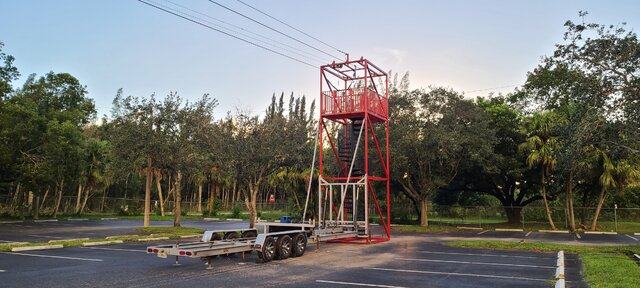 Zip Line Tower
Actual Size: 300'L x 10'W x 28'H




Have you dreamed of flying through the trees like Tarzan? Imagine what it would be like to have the wind blow through your hair and feel the mist on your face as you fly down to the ground from the highest peak! Look around at the scenery and people below as you coast through the air at high speeds. Perhaps there would be a challenge you encounter while on your way to your destination, you never know! Maybe you will have to do some strenuous climbing before you can get the opportunity to soar- But it will be worth it! Swinging through the forest at top speed would be exhilarating for anyone.
With our Zipline, this could be you! Climb your way up onto a tower that is 28 feet high, and zip down to the ground at the highest possible speed. Land safely and you will want to do it again and again. It is possible to reach speeds of up to 30 miles per hour! It will surely feel a lot faster as you zoom down the line and observe the sights around you. Whether you want to pretend you are Tarzan, a Spider Monkey, or even a Sloth, it will be a fun (and sometimes a once in a lifetime) experience that you won't forget.
Many people have thought about ziplining over the years, but they haven't been at the right place or the opportunity didn't present itself. Normally, you would find zip lining adventures in the woods or mountains in the northern United States. That might mean a whole vacation week in Vermont or New Hampshire. For some people, it may not seem like the ultimate vacation spot, so it hinders their opportunity to try zip lining out. But we can bring it to you!
No matter where you are or what your surroundings look like, you can give your guests the opportunity of a lifetime by having a Zipline adventure at your next event! Your guests are sure to enjoy the experience and will be talking about it for days, even years, after. It may even be the only opportunity they have to try it out. Or, they may even book their next trip at a place with bigger ziplining adventure options! It is always a great idea to have your guests try something new because the first time they try will be the most memorable experience for them!