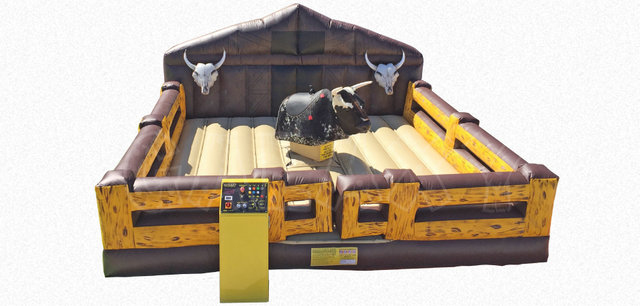 Mechanical Bull
Actual Size: 17 ft x 17 ft




The Premium Mechanical Rodeo Bull is our most advanced model yet. The soft foam safety head has some extra special features built in. With just the touch of a button you can make the bull snort smoke (C02) to shock and thrill your audience and riders. The Automatic Stop Sensor (ASS) comes as a standard. When the rider falls, the bull stops instantly.
A western party must-have. No rodeo event is complete without a mechanical bull. Available in two styles, the shown western corral, and stars and stripes, your guest will do their best to control this mechanical beast. Our mechanical bulls don't use hydraulics, so your guests stay safer. All of our operators are trained to provide the best experience. Take a wild ride on our mechanical Bull. This is sure to be a hit at your next event. Jump on up and see who can last the longest.
Each one of the automatic rodeo bull programs is linked to the two LED digital time clocks giving the current time achieved. The operator and the rider can see how long the rider stayed on the bull. There is also an additional LED clock on the rear of the console showing the best time of the event so far. This is perfect for competitions. The Premium Rodeo Mechanical Bull control console features a ten speed manual control joystick, two stop buttons and a switch that allows you to disable the spin element of the ride.
Dimensions: 17 ft x 17 ft