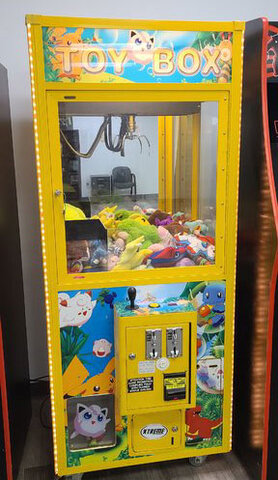 The Crane and Claw Machine
Our Crane and Claw Prize Machine is the classic crane game in which you use a joy stick to try to drop a claw and grab a prize.

The goal is to grab a prize and drop it down the chute before time expires!
The game is set to free play so no tokens are necessary.
The Crane & Claw machine is a great piece to draw guests into your booth at a tradeshow, giving them a chance to win one of your branded prizes.

Crane Machines are perfect for any event to make a lasting impression.
We supply the machine you supply the:
Plush toys
Hats
T-shirts (rolled up)
Stuffed animals
Use your imagination
Rent this crane game today for a fun experience

Crane Game can be branded for an additional fee.

We can supply the prizes for an additional price. Prices will vary depending on the type of prizes.

Power Requirements: 110v/15 amp

We rent a wide variety of Arcade Games.