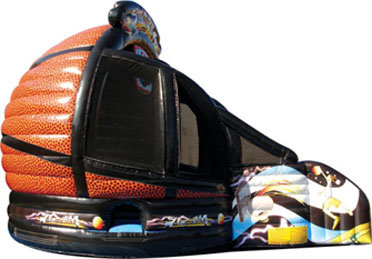 Slam N Jam Dunk House
Are you ready to take it to the hole? The Slam n Jam makes dreams come true for young basketball fans! Shoot the basket and dunk like the professionals with this active inflatable play structure. Each child can shoot a free throw, then run and jump on the center trampoline and catch the falling basketball for a show-stopping slam dunk through the dunk hoop. The higher, free throw basket has a second hoop for easily-assisted dunks. The Slam N Jam™ inflatable play structure has a unique basketball shaped back-end design, and mesh sides on the main court so spectators can catch all the action.

You'll have the crowd screaming dipsy-doo dunkaroo as you posterize all your friends!