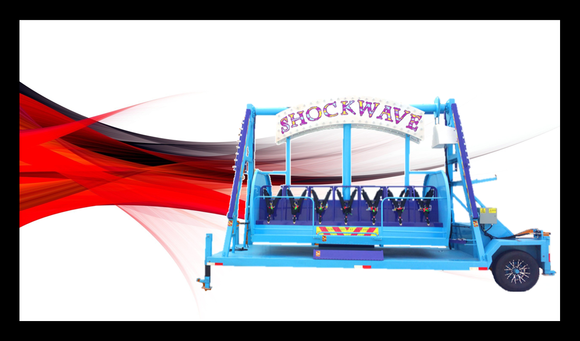 Shockwave
Most get-togethers offer various foods and different games for entertainment. In addition to games and food at your next event, why not incorporate an amusement ride for all to enjoy? There are many different types: twisting roller coasters, rings that go round and round and upside down, standard get you here to there rides, and many others.
Not all people like the intense thrill of going upside down over and over. Others don't like the boredom of a standard ride that gets you from point A to point B with no real excitement. Luckily, there are a lot of rides in between that offer a little something for everyone.
What about a swinging ride? Strap yourself in and find yourself clutching the edge of your seat in no time! The ride starts out slow and appears monotonous, but then gets faster and faster as it builds momentum! You will grit your teeth and hold on for dear life as it gets higher and higher with every thrust back and forth. It will appear as if it is going to go right over the center rail and tilt you completely upside down, but will stop right before it does.
It is like an electrified playground swing! People of all ages 8 and up will enjoy this heart-racing ride! Give yourself a jolt and hop on for a try if you aren't afraid of the current! Fourteen people under 250 pounds can test their limits at the same time.
Screams of excitement will be heard by those on the ground as they look at the riders and watch what they are encountering. Perhaps they will choose to hop on next, or maybe they will be a little timid and continue on their way.
As the riders depart the ride, they may feel a little dizzy from being up in the air and going back and forth. But one thing is for certain: they will be departing with a grin across their faces. This ride is fun for everyone. It doesn't go upside down and isn't a dull ride either. It will make people stop as they are walking by, and is definitely an eye-catcher.
It doesn't matter if your guests are watching or riding, they will be overcome with sheer excitement as they experience or look on as others experience it. Try Shockwave out at your next event. It will be electrifying!
24'L x 18′ x 14'H