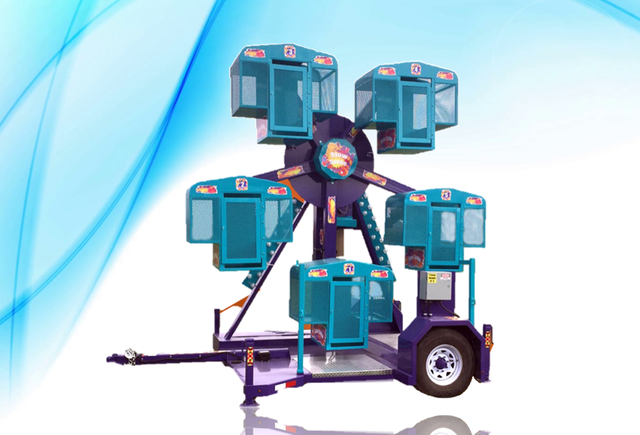 Mini Ferris Wheel
The Ferris Wheel is a true American classic. A few famous examples include the Pacific Park Wheel in Santa Monica (featured in countless movies) and the monstrous 150 ft. tall Wonder Wheel in New York that was built in 1920 and weighs 200 tons.
Always the central ride and usually the center of attention, the lines for a Ferris Wheel are always long, the people always walk away happy, and the beautiful spinning wheel inevitably draws every eye no matter what part of the park or fair you are in.
Now all that wonder and amazement associated with a Ferris Wheel is available for children's parties and events – as well as any company parties or corporate events that employees are allowed to bring their children to.
Standing a sturdy 14 feet tall, structurally designed for safety, and aesthetically appealing in its color scheme and carnival decor, our Mini Ferris Wheel for rent holds up to 20 kids at a time, and in true Ferris Wheel form, it lights up at night to provide that true wondrous fair and party atmosphere.
Providing a magical and high-end entertainment feel during both the day and evening, both the young and grown alike will enjoy watching it spin, and the kids will line up to take their turn, laughing as they rise and look down, then beg to go again when they emerge with smiles plastered to their little faces. Even those kids who won't want to ride will enjoy the spectacle and vividly remember having a great time at the party with the Ferris Wheel.
Great for a stand-alone ride, or to be booked in conjunction with our ride options including the Wrecking Ball, the adult Ferris Wheel, our amazing South Florida Zip Line experience, or any of our other all-star rides.
24 long
18 wide
14 tall