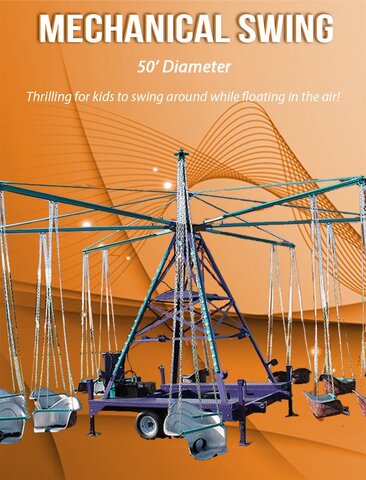 Mechanical Swings
50′ Diameter
Kids love getting to experience sights from the height of an adult, always wanting to get on their shoulders for a better view of what is going on around them. They love the thrill of being able to see more than they usually can from their minimal view while standing. There is so much more world to see!
There is nothing better or more enjoyable than getting to see from a different perspective. Imagine being able to see for miles! Let this become a reality for children at your next event with o thrilling mechanical swing! It will take them high into the air, before rotating around. Your guests will be able to see the whole event with their very own eyes, with just one glance!
They will be going round and round while seeing the event unfold below them. Perhaps they will see someone that they didn't know was there, or be able to see and contemplate what adventurous ride they would like to pursue next. Whatever they are searching for as they fly through the sky, they will surely find it as this ride gives them the sight they want, with optimal views!
As the ride comes to an end, the rotation slows and it starts to descend back to ground level. Children may not be ready for it to be over, and it is okay for them to get back in line and do it all again! This time, they may be searching for something else, or just admiring the scenery from high above the ground.
Floating through the air is fun and exciting, and definitely something that the smaller ones will enjoy at your next event. It will be a big hit, and will allow the children the gift of sight from high above, even higher than his/her parents shoulders!