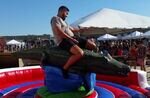 Mechanical Alligator
Gator wrestling has been very popular throughout Florida for many years.
Here is your chance to wrestle a gator. How long can you hang on?
Don't worry if you fall off, we have an inflatable arena ready to catch you.
CAN YOU TAME THE GATOR?
Comes with Operator.
Be sure to have this amazing attraction at your next event!