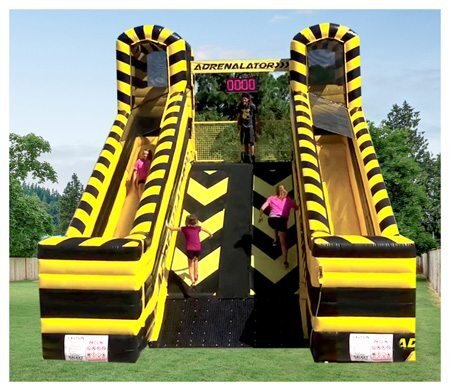 Adrenalator
30 x 20 x 16H
Have you been running on a treadmill? Have you experienced the "burn" when the treadmill is at max speed and max incline. With Adrenalator, imagine yourself running up a giant 15′ long treadmill at a 27 degree incline. This obstacle course will get your heart racing and the adrenaline pumping through your body. Adrenalator will give you a brand new experience like nothing you have seen or done before. It is just like American Ninja Warrior, but in your own private party! It's truly amazing!
Our Adrenalator is a dual belt system with brightly colored black and yellow patterns. It can be installed nearly anywhere in any location and be ready for neighborhood or family parties, corporate or theme parties, college or school parties, fun raising events or birthday events.
For safety, Adrenalator is specially designed, with an impact absorbing subfloor below the belts to protect the participants if they fall. Two operators are equipped with a hand held control device which acts as an Emergency-Stop button: one operator is positioned at the bottom next to the entry ramp and the other at the top on the exit platform. Either of the operators are able to instantly stop the ride should the need arise. The two inflatable exit slides ensure that the participants safely and with a bit of fun, exit the game.