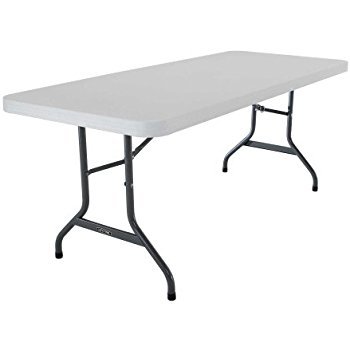 6 ft Table
What is long, white, has four legs and folds under pressure? That's right a folding table.
If you ever dreamed of being able to experience the luxury of an elongated dining surface, but money was just too tight; Premier Bounce n Slide is going to make your dreams come true.
This is the perfect place to put things down; cups, plates, forks, books, jars, cans... it can handle anything you throw at it. Stop thinking about how royalty gathers and live it first hand.
Tables are 6 feet long, rectangular and seat 8 chairs per table.
Dont't feel like standing around the table? Place chairs around it for an event you won't soon forget.
*Drivers do not setup tables*