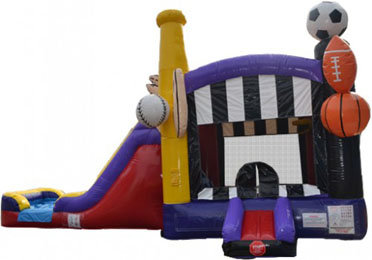 Deluxe Sports Combo Dry
If your kids love sports, then they're sure to have a blast with the Deluxe Sports Combo Wet or Dry bounce house! This piece brings together the fun and unique experience of a bounce house, a water slide, and a sports lover's fantasy all in one place.
Featuring a construction that has inflatable shapes of sports apparel and equipment used in cleverly designed, this bounce house brings a great contrast to the traditional "castle" styles of entertainment options. It's perfect for sporting event fund-raiser, ball park attractions, or any occasion with athletic attendees! The Deluxe Sports Combo Wet or Dry bounce house will certainly bring lots of joy and fun memories to kids of all ages!
** This unit can also be used as a waterslide.
Dimensions:
Width - 13ft
Height - 14ft
Length - 28ft