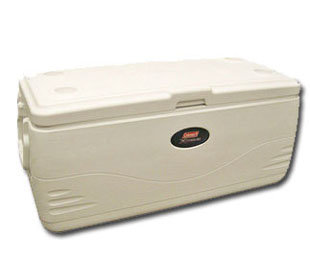 Visit contact us to request for pricing

Summer heat getting to you? What's better than an ice cold drink? Make sure your drinks stay nice and cold with our heavy duty cooler. The Coleman Marine 150-Quart Cooler is a heavy duty ice storing unit which comes with a unique 5 day ice retention facility.
Our coolers have an antimicrobial liner which can keep food and drinks stored inside sanitary. The cooler can retain ice for as long as 5 days at a stretch. It also has a marine drain with valve for easy cleaning. It is ideal for those who are looking for all day bounce parties. The unit will meet all the requirements you may have of a party cooler.